Education is a catalyst for prosperity, civic engagement, and healthy and vibrant communities.
Recognizing education's importance, the 2014 Legislature adopted two statewide goals to increase educational attainment, that by 2023:
All adults in Washington, ages 25-44, will have a high school diploma or equivalent.

At least 70 percent of Washington adults, ages 25-44, will have a postsecondary credential.
The Roadmap Update report and interactive dashboards on the subsequent pages measure the state's progress toward improving educational attainment in Washington. 
---
Executive Summary
Overall, the results are mixed and progress is slow.
In the four years of the Roadmap timeline, Washington's attainment levels have grown only slightly.
Even though postsecondary enrollments are down slightly from 2012, degree and certificate awards have increased five percent.
There have been significant increases in the number of Hispanic/Latino students who are completing high school, as well as the number who are enrolling in and completing college; however, college completions lag for African American and Native American individuals.
There are still significant educational opportunity gaps for some racial and ethnic subgroups, for low-income students, and for others, such as foster youth and students with disabilities.
While the overall results do not show enough progress, the goals and strategies of the Roadmap have the potential to catalyze major shifts.
If we are to make significant progress toward meeting our attainment goals, we need to develop and expand innovative strategies. Such efforts foster opportunity, providing Washingtonians with avenues to prosperity.
---
Exploring the Roadmap Dashboards 
The Washington Student Achievement Council (WSAC) is committed to building a future that provides equitable access to postsecondary education.
Over two dozen data dashboards, in nine topical pages, measure and track progress toward meeting the state's goals, the challenges we face as a state, and current strategies to increase attainment. 
To view the interactive dashboards, click/select the headers or images below, or use the navigation bar at the top.
Washington's Roadmap to Prosperity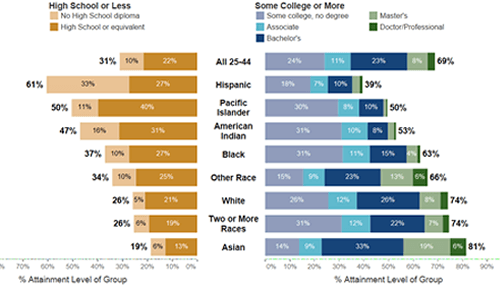 Education is the fundamental building block of vibrant communities, civically engaged citizenry, and prosperous regional economies. 
Dashboards include Progress on Educational Attainment Goals and Attainment by Race and Ethnicity.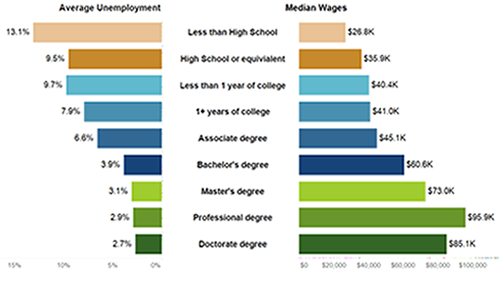 A skills gap has long-term consequences for individuals and economies. 
Dashboards include Employment Rates and Wages, Projected Job Openings, and Skills Gaps.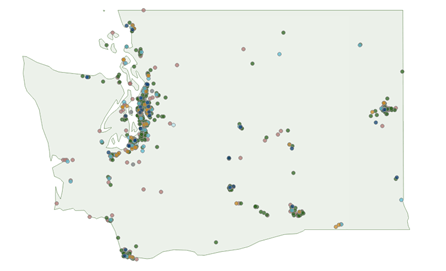 Washington's Postsecondary education and training system includes hundreds of educational opportunities across a wide range of credential levels. 
Dashboards include Institution Location Maps and Tables. 
Measuring Progress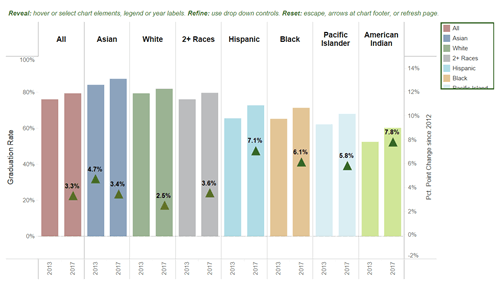 A high school diploma is critical to determining a student's future educational attainment and career progression.
Dashboards include High School Graduation Rates and Alternative Credentials.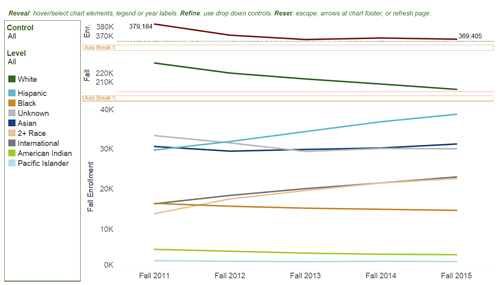 Enrollment patterns reveal who transitions successfully through the educational pipeline and who does not. 
Dashboards include Apprenticeships and Fall Enrollments by Demographic Subgroups and Level.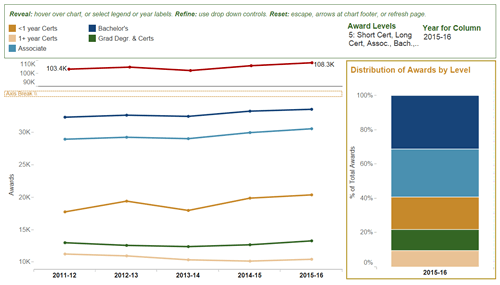 Completion of a postsecondary credential is both an individual accomplishment and a contribution to the state's educational attainment goals.
Dashboards include Postsecondary Awards by Demographic Subgroups and Level, Completion and Graduation Rates. 
Challenges and Opportunities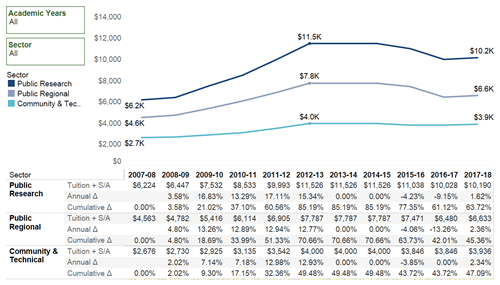 Students cite financial constraints as the primary deterrent to program completion.
Dashboards include Tuition and Fees and Student Financial Aid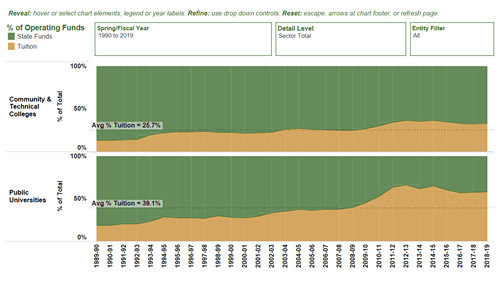 Adequately funding institutions, and ensuring state financial aid programs can serve all eligible students, represent key solutions to the affordability problem.
Dashboards include State Support of Higher Education, Student and State Share of Cost, and Funding per FTE.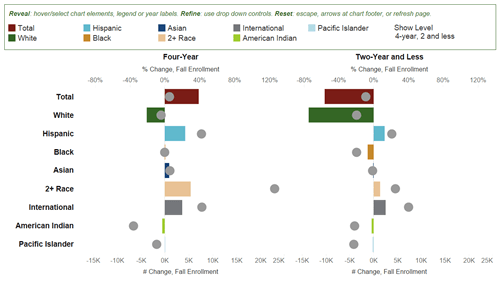 Most of Washington's future population growth is expected to come from groups that historically have been less likely to participate in and complete postsecondary programs.
Links to Dashboards with demographic data that include Educational Attainment, High School Graduation Rates, Fall Postsecondary and Apprenticeship Enrollment, Postsecondary Completions, Graduation Rates, and Borrowing by Dependency Status
With renewed energy and focus on connecting youth and adults to college and career opportunities, and expanding pathways for success, we can build an even more prosperous Washington.