Reports
View WSAC Publications
Click on the tabs below to view a list of WSAC publications by subject area.
Feature Publication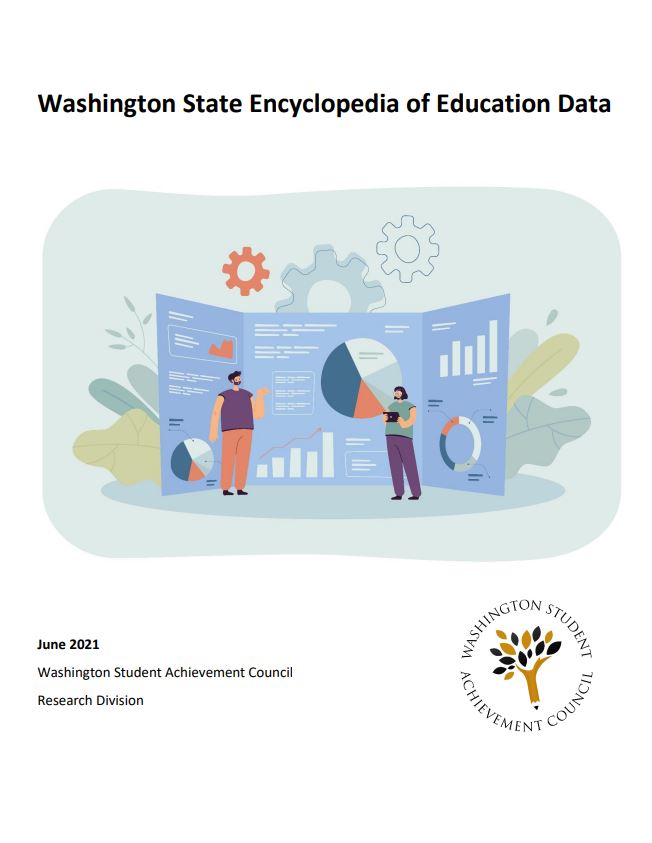 Washington State Encyclopedia of Education Data is a reference document capturing important education data findings and trends in our state. The data is derived from a variety of sources, and when possible, it is disaggregated by race/ethnicity, gender, income status, and other characteristics. View the complete publication.
Research and Data
Research and Data
Washington State Encyclopedia of Education Data (2021)
Lessons on Recovery: The Value and Potential of Higher Education in Response to the COVID-19 Crisis (2020 Executive Summary & Report)
Equity
---
Affordability
---
Enrollment
---
Exploring Challenges in Postsecondary Access (2022)
Adult Learner Study (2022)
What Evidence from Research Tells Us: Family Engagement in College Pathways Decisions - Research Spotlight (2022)
Facing Learning Disruption: Examining the Effects of the COVID-19 Pandemic on K-12 Students (2021)
Fall Enrollment Report: Exploring the Impact of COVID-19 on Postsecondary Enrollment in Washington (2021)
Improving Postsecondary Access: Washington Career and College Pathways Innovation Challenge Program (2021)
Understanding Postsecondary Enrollment Trends in Washington and How the COVID-19 Crisis Continues to Impact Students' Postsecondary Opportunities (2021)
From the Frontline: Principals' Views on Engaging Students About the Benefits of Acquiring Postsecondary Education and Training Using Financial Aid (2019)
GED Test Changes and Attainment (2016)
Reciprocity Report (2015)
Completion
---
Postsecondary Program Participation and Completion Patterns Among Individuals Incarcerated in Washington State Prisons (2021) - Developed for WSAC by the Washington State Institute for Public Policy, in partnership with the Dept. of Corrections and State Board for Community & Technical Colleges
Some College, No Degree: A look at those who left early (2015)
Student Supports
---
Labor Market
---
COVID-19 Reskilling and Upskilling (2020 Report Snapshot I Report)
COVID 19 Reskilling and Upskilling Regional Highlights:
Exploring the Computer-Related Workforce of Washington State (2020)
Educator Field Placement in Rural Areas (2019)
For-Profit Degree-Granting Institutions and Private Vocational Schools in Washington - Phase II Report (2017)
Regional Educational Needs Assessment (2017)
Situation Assessment of the Regulation of For-Profit and Private Vocational Schools in Washington (2016)
Southeast King County Higher Education Needs Assessment and Operating Plan Report (2016)
Dual Credit
---
Prior Learning Assessment
---
Transfer
---
Tuition and Fees
---
Roadmap and Strategic Planning
Roadmap and Strategic Planning
Strategic Action Plans
---
Roadmap Updates and Supporting Briefs
---
Roadmap Report
---
Financial Aid Programs
Financial Aid Programs
Financial Aid Programs Expenditure Reports
---
Grant Awards
Grant Awards
Open Educational Resources
---
This page contains reports produced by the Washington Student Achievement Council since its inception on July 1, 2012. Reports and publications produced by its predecessor agency, the Higher Education Coordinating Board (HECB), can be found in our archives.