Strategic Action Plan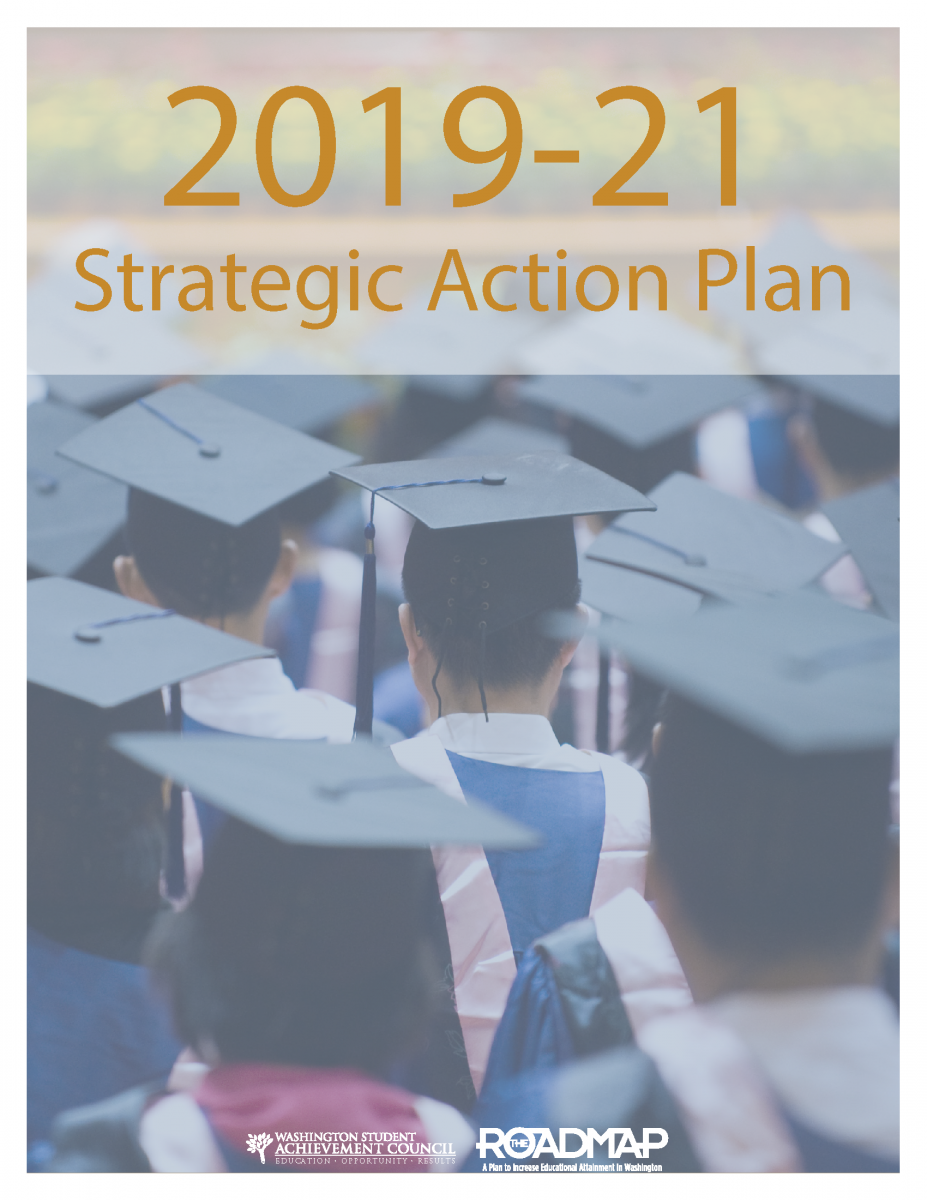 The 2019-21 Strategic Action Plan outlines strategies and investments to meet Washington's educational attainment goals:
All adults in Washington, ages 25-44, will have a high school diploma or equivalent.
At least 70 percent of Washington adults, ages 25-44, will have a postsecondary credential.
Meeting the Challenge
Reaching the educational attainment goals hinges on the state's determination to address four critical challenge areas:
Create Affordable, High-Quality Pathways that provide multiple routes to completion of certificates and degrees, including apprenticeships and other career-connected learning opportunities.

Close Opportunity Gaps by confronting barriers for underserved students and providing support for underrepresented students throughout their academic careers. 

Support Regional Leaders by addressing regional workforce shortages and by engaging and supporting regional efforts, responsive to regional needs and competitive advantages, to accelerate educational attainment.
Reconnect Adult Learners through recruitment and support efforts to encourage the completion of degrees and credentials for students who have earned some academic credit. 
2019-21 Strategic Action Plan Recommendations
Washington must invest in an array of programs targeting every level of the education system.
Create Affordable, High-Quality Pathways
Affordability constraints impede students' abilities to select from multiple options, regardless of their economic circumstances. 
Fully fund and forecast the State Need Grant program
Amply fund public institutions
Target aid to students from middle-income families
Pilot a savings matching incentive program
Close Educational Opportunity Gaps
The complexity of issues affecting the opportunity gap necessitates a systemic approach to improve equity.
Increase the number of counselors
Expand support for College Bound Scholars
Increase financial aid applications with additional training and events
Improve dual-credit opportunities for low-income students 
Expand student supports on college campuses
Support Regional Leaders
Sustainable momentum in improving educational attainment relies on regional efforts. 
Build a pipeline to meet regional workforce shortages
Engage regional leaders and support local efforts
Expand career-connected learning opportunities
Reconnect Adult Learners
Adults without accessible and affordable options to complete postsecondary education will not have access to living-wage jobs. 
Offer enrollment navigation guidance to returning adults
Expand child care funding
Target outreach to working-aged adults
Utilize Guided Pathways to ensure efficient completion
Provide technical assistance to institutions to serve adult learners