Strategic Action Plan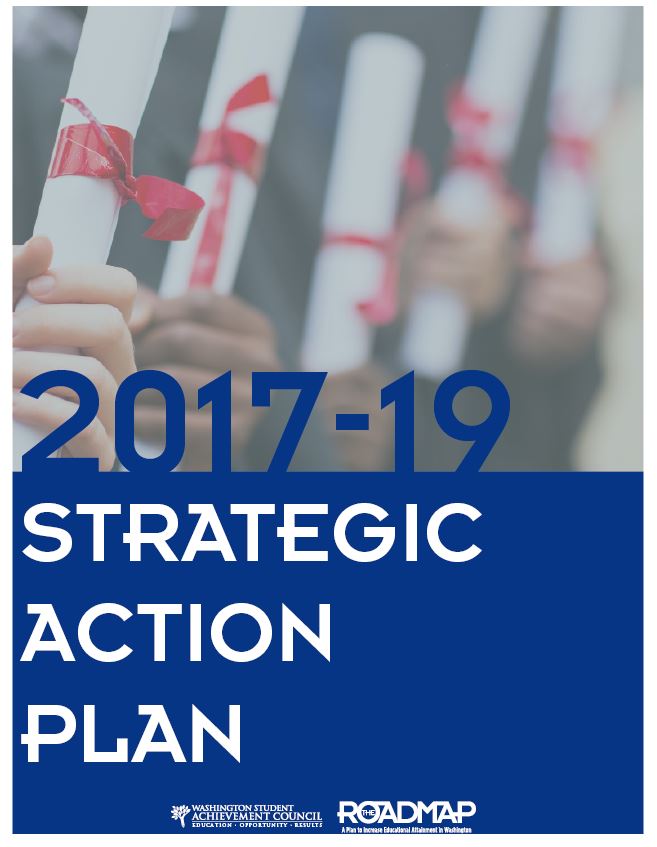 The 2017-19 Strategic Action Plan outlines strategies and investments to meet Washington's educational attainment goals:
All adults in Washington, ages 25-44, will have a high school diploma or equivalent.
At least 70 percent of Washington adults, ages 25-44, will have a postsecondary credential.
Meeting the Challenge
Three key challenges must be addressed to meet Washington's education needs:
Closing gaps in educational outcomes for historically underrepresented populations.
Improving postsecondary recruitment, retention, and completion for working-age adults.
Making college affordable for low- and middle-income students.
These challenges are broad, persistent, and system. Washington's respond must be equally substantial.
2017-19 Strategic Action Plan Recommendations
Washington must invest in an array of programs targeting every level of the education system.
Make higher education more affordable
Expand state financial aid programs, including fully funding the State Need Grant program.
Provide ample funding for higher education.
Maintain full funding for the College Bound Scholarship.
Maintain a stable and predictable tuition policy.
Improve college and career readiness
Increase dual-credit opportunities.  
Invest in guidance, and proven high school completion efforts.
Increase college completion
Fund successful student support programs.
Provide opportunity gap innovation grants.
Create a plan to recruit and retain adult students.
Ensure graduates can meet workforce demands
Expand investments in fields with anticipated workforce shortages.
Expand work-based learning through State Work Study.