Financial Aid Toolkit
Welcome to the Toolkit!
This toolkit contains a host of resources supporting the Washington College Grant (WA Grant) and the financial aid application process. The full list of toolkit resources and related websites can be found in the tabs below, and can also be accessed directly via Google Drive.
Putting It to Use
The toolkit has many potential uses—here are some quick ideas:
New! Share the WA Grant Informational Videos with students and families in your school or community. Available in seven languages.
Print out WA Grant handouts or flyers as takeaways for your students, families, or customers. Several translations are available.
Use our WA Grant messaging slideshow on your hallway monitors and cafeteria screens, and in career centers. Or print out the slides for display on bulletin boards or in classrooms.
Share our website resources in your newsletters and emails.
Promote the ready-made social media images on your social media channels.
Other Information
Please let us know if there is additional information you would like to see added to the toolkit. You can reach us at counciltools@wsac.wa.gov.
 
Toolkit Resources
Toolkit Resources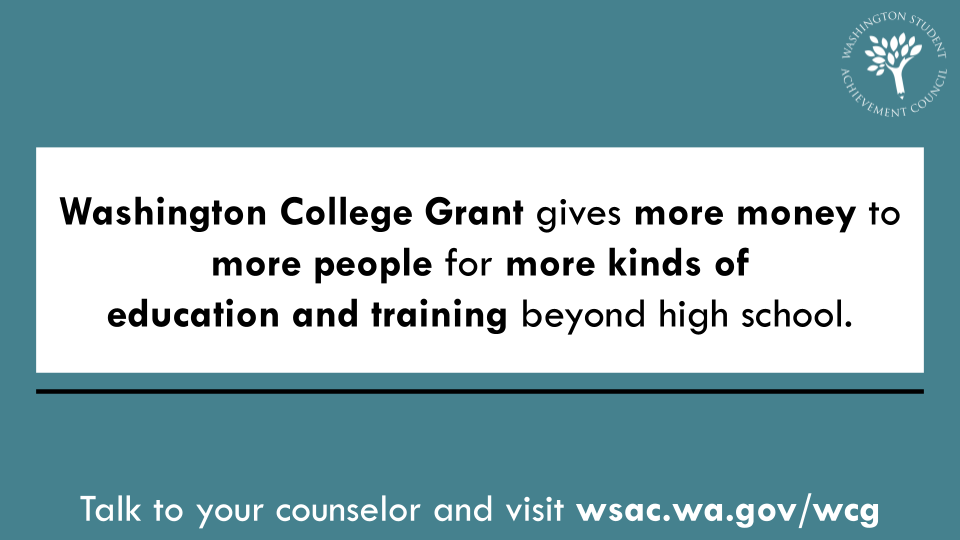 Messaging Slideshow:
These slides are a potential resource for career centers, classrooms, worksource centers, libraries, and more. They also could be used as social media images. 
Handouts & Flyers: Includes the following:
WA Grant print-friendly flyer - gives an overview of the new Washington College Grant and a link to get more information. Available in several languages.
Ask Otterbot half-page handout - helps College Bound Scholarship students sign-up for financial aid texting assistance from WSAC.
5 Financial Aid Myths handout - designed to dispel common myths related to financial aid. Available in several languages.
College Bound Scholarship Myths & Facts handout - designed to dispel common myths related to the College Bound Scholarship. Available in several languages.
WASFA promotional flyer - promotes Washington's state financial aid application for undocumented individuals and others. Available in English and Spanish.
What about College Bound? - print-friendly handout - explains how CBS and WCG work together to give students opportunities.
This toolkit contains several ready-made social media images for FAFSA, WASFA, and WCG promotion. Follow @WSACouncil for access to more social media messages for redistribution.
Website Resources
Website Resources
You will find helpful resources and information for the following programs on our websites:
WA Grant is one of the most generous financial aid programs in the country. The grant gives more money to more people for more kinds of education and training beyond high school. Funding is guaranteed for eligible students. The guarantee of financial aid can help reduce the affordability barriers that currently prevent students from pursuing college and career education.
WSAC worked with the North Central Educational Service District (NCESD) to develop videos to increase students' awareness of state financial aid and postsecondary education opportunities. These videos are free for counselors and advocates to share with students and families. Available in multiple languages: English | Spanish | Chinese | Russian | Somali | Tagalog | Vietnamese 
Additionally, this resource provides short lesson plans for using the videos with students.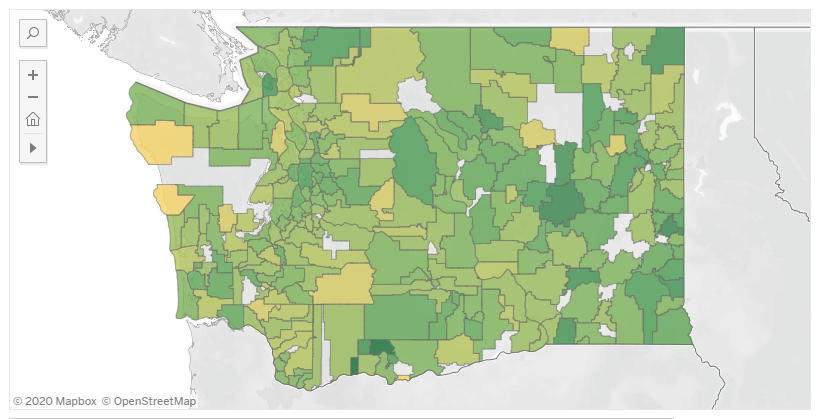 FAFSA Completion Dashboard
Updated weekly, the dashboard provides public-facing, aggregate district- and state-level comparison data for the Free Application for Federal Student Aid (FAFSA). Unfortunately, Washington's past FAFSA completion rates have been low. 
The Plan Your Future page provides information on career exploration, applying to colleges, state financial aid programs, and more for high school juniors and seniors.
How to Apply for Financial Aid
Applying for financial aid is a crucial first step toward an affordable degree or credential. This is especially true for students from low- and middle-income families. If students don't apply for financial aid, they can't get scholarships, grants, or loans from schools or state and federal financial aid programs. This web page provides information on both the Free Application for Federal Student Aid (FAFSA) and the Washington Application for State Financial Aid (WASFA).
The College Bound Scholarship is an early commitment of state financial aid to eligible students who sign up in middle school and fulfill the scholarship pledge. Visitors to the site can find information on College Bound eligibility and access. Counselors will also find a host of resources to help parents and students understand and access the program.
The 12th Year Campaign boosts college and financial aid application rates in Washington by helping those working with high school seniors and their families complete applications for college admissions and financial aid. The web page contains information and resources designed to help schools and partners host a successful financial aid advising day. The 12th Year Campaign is also hosting virtual financial aid info and filing events.
Otterbot is a free texting service created to support high school seniors who have signed up for the College Bound Scholarship. Otter sends financial aid info and reminders to College Bound seniors
The Passport to Careers program helps students who have experienced foster care or unaccompanied homelessness to prepare for and succeed in college, apprenticeships, or pre-apprenticeship programs.