Dual Credit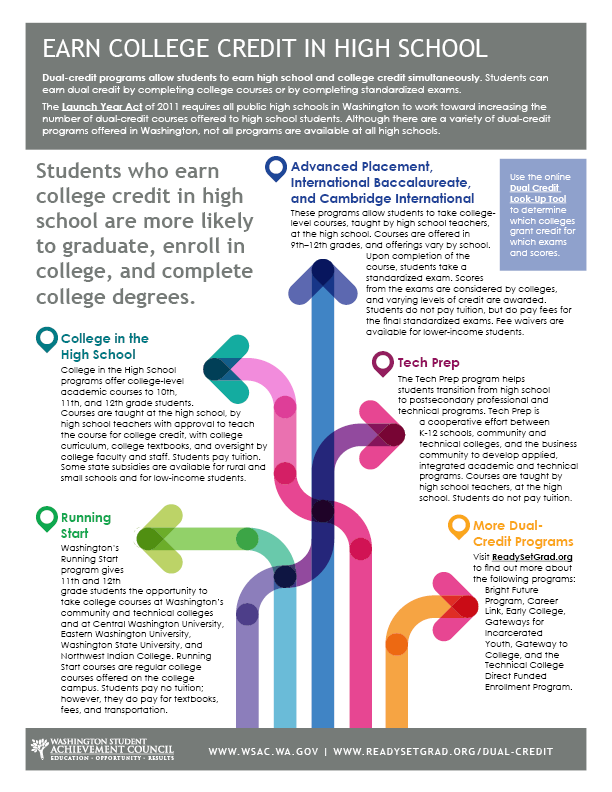 Dual credit programs give students the opportunity to earn high school and college credit simultaneously. Students who earn college credit are more likely to graduate high school, enroll in college, and complete college degrees.
There are three main ways that students can get dual credit. 
1. Credit by passing a college course
Complete and pass college courses through Running Start and College in the High School. 
2. Credit by examination 
Complete standardized exams with a score of 3 or better. Exams include Advanced Placement, International Baccalaureate, and Cambridge International Program.
3. Credit by articulation
Complete career and technical education (CTE) dual credit courses. 
Changes to College in the High School WAC Chapter 392-725, effective Nov. 6, 2017
On November 3, 2017, OSPI sent out a new bulletin which explains the changes made to the College in the High School (CHS) rules outlined in WAC Chapter 392-725.  The primary change is the addition of a new section (WAC 392-725-235) explaining rules for the co-delivery of a CHS course with another dual credit course.  Special attention to this change is warranted for staff working in student information systems and with high school transcripts, and for school counselors. 
The WAC must remain somewhat vague in describing how to transcribe a CHS co-delivered course in order to accommodate variances in school districts' student information system.  OSPI staff are in the process of updating the Transcript User Guide and Transcript FAQs to provide more detailed suggestions for how to determine the course title and which course designators to use.  
For now, when creating a course title for a co-delivered CHS and dual credit course, schools are asked to use the college's course curriculum and number first (i.e. MATH141) for the CHS class and then include as much of the other dual credit course's title as possible within data system limitations (i.e. AP US History).  The approved abbreviations for AP and IB courses can be found in the current Transcript User Guide.
Dual Credit Programs in Washington State 
Background
Running Start
College in the High School
AP, Cambridge International, IB
CTE Dual Credit  
More Dual Credit Programs