Dual Credit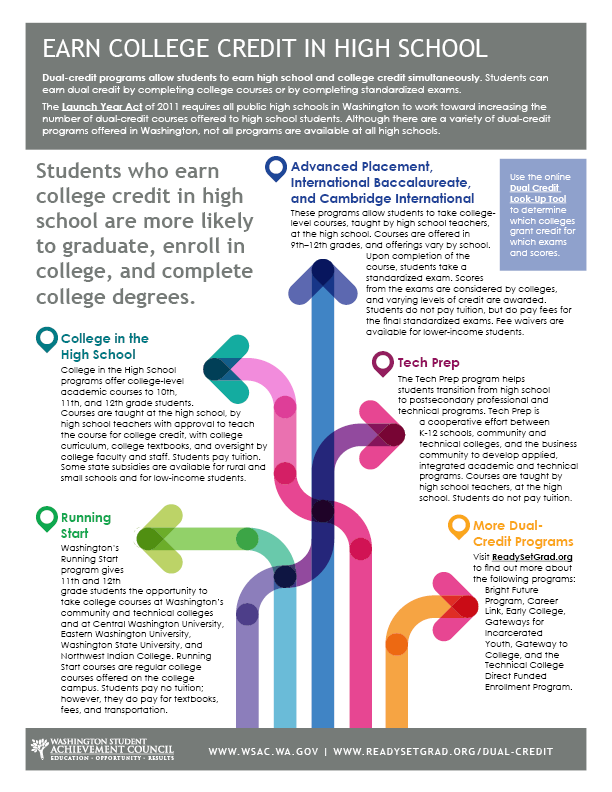 Dual credit programs give students the opportunity to earn high school and college credit simultaneously. Students who earn college credit are more likely to graduate high school, enroll in college, and complete college degrees.
There are three main ways that students can get dual credit. 
1. Credit by passing a college course
Complete and pass college courses through Running Start and College in the High School. 
2. Credit by examination 
Complete standardized exams with a score of 3 or better. Exams include Advanced Placement, International Baccalaureate, and Cambridge International Program.
3. Credit by articulation
Complete career and technical education (CTE) dual credit courses. 
Dual Enrollment Scholarship Pilot Program
The 2019 Legislature passed House Bill 1973 establishing the Dual Enrollment Scholarship pilot program to be administered by the Washington Student Achievement Council (WSAC). To implement, WSAC convened a multi-stakeholder group to design the program within the guidelines identified in the legislation with representatives from the Council of Presidents (COP), the State Board of Community and Technical Colleges (SBCTC), and the Office of Superintendent of Public Instruction (OSPI).
Students who are eligible must qualify for free or reduced-price lunch (FRPL), be enrolled in College in the High School (CiHS) or Running Start (RS) courses at a pilot site location, and have a minimum GPA of 2.0. For RS, grants are distributed to the participating colleges and universities and scholarships cover course fees/lab fees and provide a textbook voucher. For CiHS, grants are distributed to participating districts, and scholarships cover tuition and fees. See here for a map of current pilot site locations.
The 2020 Legislature passed Senate Bill 6374, expanding the Dual Enrollment Scholarship pilot program to cover apprenticeship materials for eligible students. Due to this expansion, the RS portion of the pilot program will have a competitive selection process for the 2020-21 academic year, open to colleges and universities that currently offer RS. Colleges interested in serving as a Dual Enrollment Scholarship pilot site should submit a Letter of Interest (LOI) to Amelia Moore at ameliam@wsac.wa.gov by July 8, 2020. For more information on the application process, see the Suggested LOI Outline and Applicant Reference Sheet. 
Dual Credit Programs in Washington State
 
Background
Running Start
College in the High School
AP, Cambridge International, IB
CTE Dual Credit  
More Dual Credit Programs