Executive Director
Michael P. Meotti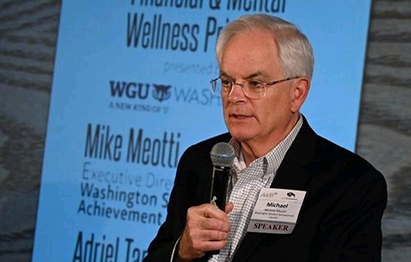 Governor Jay Inslee appointed Michael Meotti to serve as the executive director of the Washington Student Achievement Council (WSAC) in 2016. Mr. Meotti works with partners across higher education, elected officials, employers, organized labor, and community-based groups to increase student access and success. 
In 2019, the state launched the nationally recognized Washington College Grant program. As executive director, Mr. Meotti led WSAC to provide higher education policy and program expertise in support of this historic investment.
Over the past 15 years, Mr. Meotti has served two terms on the executive committee of the State Higher Education Executive Officers Association (SHEEO), and he is currently a commissioner of the Education Commission of the States (ECS) and a commissioner and member of the executive committee of the Western Interstate Commission for Higher Education (WICHE). He frequently speaks before national audiences on higher education, equity, workforce development, and economic competitiveness issues. The U.S. Senate Committee on Health, Education, Labor, and Pensions invited him to testify on increasing access to college financial aid.
Mr. Meotti has extensive experience in higher education policy, finance, and innovation. Before joining WSAC, he consulted on higher education initiatives supported by national foundations and worked on regional and state strategies to increase student access and success. Mr. Meotti has also served in leadership positions in city and state government, nonprofit organizations, and corporations. He previously served as Commissioner of the Connecticut Department of Higher Education and Executive Vice President of the Connecticut Board of Regents for Higher Education, and was President of the United Way of Connecticut. Mr. Meotti holds bachelor's and law degrees from Georgetown University, and he has taught policy analysis and higher education policy graduate courses at George Washington University and Trinity College.