National Guard Postsecondary Education Grant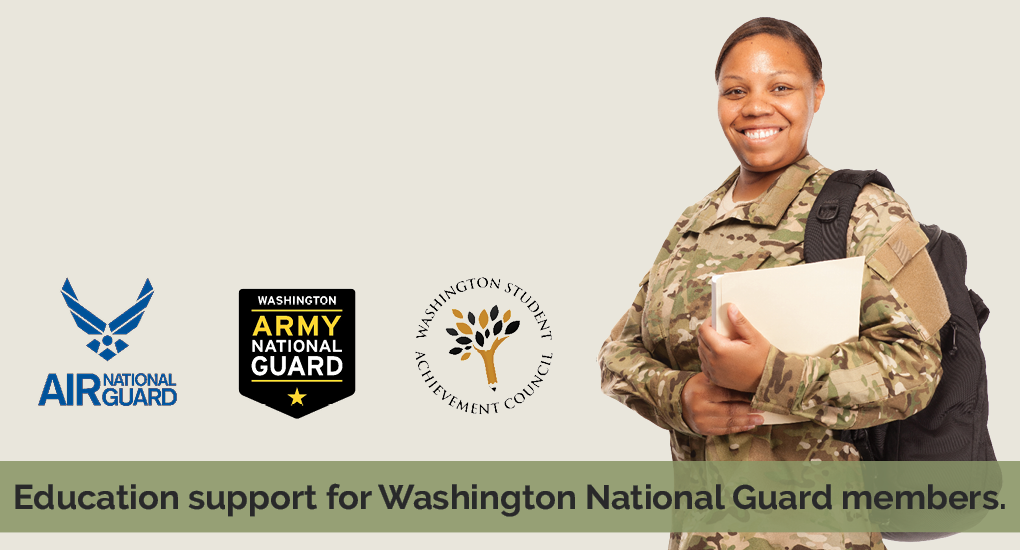 Washington National Guard members can get money for college or training.
Grant helps pay tuition and fees not covered by financial aid.
Get an additional $500 for books and supplies.

The National Guard Grant helps members of the Washington National Guard get an undergraduate degree or certificate. Participants commit to serving one year in exchange for each year of grant funding.
For details and requirements, review the National Guard Grant Program Guide and Frequently Asked Questions.
About the Program
Minimum Qualifications
Minimum Qualifications
Participants must meet the following requirements:
GI Bill® is a registered trademark of the U.S. Department of Veterans Affairs (VA). More information about education benefits offered by VA is available at the official U.S. government Web site at www.benefits.va.gov/gibill.
Service Obligation
Service Obligation
Participants must fulfill the following obligations:
Serve one year in the National Guard for each year of Washington National Guard Grant funding received. Service begins after the last day of the final term of the academic year for which funds are received.
Maintain good standing as a member of the Washington National Guard.
Maintain satisfactory academic progress in the degree or certificate program where enrolled.
How to Apply
How to Apply
The application is open year-round.