College Bound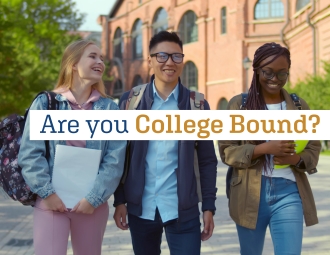 The College Bound Scholarship
The College Bound Scholarship is an early commitment of state financial aid to eligible students who enroll in middle school and meet the pledge requirements. The College Bound Scholarship covers average tuition at public college rates, some fees, and a small book allowance at over 65 colleges, universities, and technical schools in Washington. This page contains information for students, families, counselors, and anyone interested in the College Bound Scholarship.
Information for Students and Families
We've gathered the most important information about the College Bound Scholarship to share with our students and families in Washington State. View the tabs below to find out about applying, eligibility, the College Bound pledge, and more.
---
Information for Middle School Counselors and Staff
The College Bound Scholarship program provides ample resources and guidance for counselors and practitioners working with College Bound Students. In addition to the resources on this page, school and non-profit organization staff can order free promotional materials to assist students and their families.
Information for High School Counselors and Staff
School and non-profit organization staff can use the tools and resources below to inform students and their families about how to maintain eligibility, meet program requirements, and access the scholarship. Many resources are available in multiple languages.
Partnerships, Legislative Statutes, and Reports
Statewide Map
In the Statewide College Bound Scholarship Sign-Up Map, users can view and sort College Bound sign-up rates. Rates can be viewed by region, Educational Service District (ESD), county, gold star awards, and school district. Gold Star districts and schools are those that had completion rates higher than the state rate and are indicated with gold stars on the map.