News: College & Career Compass
Washingtonians looking for their next career step have a new Compass 
April 9, 2020
Olympia—The Washington Student Achievement Council (WSAC) has a new online resource: College & Career Compass is a tool that empowers adults to return to school, earn a credential, and advance in their careers. WSAC didn't plan on launching this new tool during a public health and economic crisis. But as our local and global economy reels from the impacts of COVID-19, one lesson from the Great Recession is clear. Education after high school increases economic resilience—for individuals, their families, and their communities.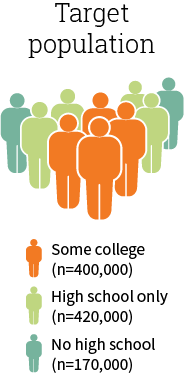 This could be the best time to go back and finish a postsecondary credential. 
Economic turmoil isn't sparing Washington's workforce. But in our state, residents have the unique advantage of two resources. College & Career Compass can help people connect with programs and campuses. Then, when students enroll, the Washington College Grant is guaranteed to cover full or partial tuition for all eligible students from low- and middle-income households. 
Before the economic fallout of COVID-19 began, about 70 percent of Washington jobs required education beyond high school. We don't yet know the full extent of the current economic impacts or how they'll reshape our labor market. But based on the Great Recession, we can expect that people with a postsecondary credential are less likely to find themselves unemployed and more likely to see their earnings bounce back. 
Yet in Washington, too few working-age adults have the credentials—a short-term certificate, apprenticeship, or two- or four-year degree—to weather this crisis. Almost 1 million residents age 25-44 don't have a postsecondary credential. That's nearly half of all working-age adults in our state. Of these 1 million, about 40 percent have some college credit, placing Washington seventh in the nation for the number of adults who started but didn't finish their degree. This population is more likely to have taken out student loans for school, but they don't have the earning power of a degree to pay off that debt.
That's where College & Career Compass comes in. 
WSAC is launching Compass with an email campaign to over 100,000 adults who don't have a postsecondary credential. The campaign urges people to visit the new online tool, learn about how colleges and financial aid have changed to be more supportive, and reconsider the prospect of finishing a credential. 
Compass helps people explore their options.
Users can search through a wide range of schools and programs—from a three-month welding certificate to a bachelor's degree in nursing. They can filter results by location, online and evening/weekend programs, or transfer options. Users can also review and save articles covering topics such as financial aid, what to do about past debt, refreshing core skills like math, childcare resources, how to transfer any previous credits, and more. Each article has tips for taking the next steps and questions to ask a campus. 
Compass connects people to campuses and programs.
When users find programs they're interested in, they can permit the tool to share their contact information with colleges. Campuses will receive these referrals and follow up with users about programs of interest and topics that may be areas of concern.  
Campus commitments set Compass apart.
Behind the scenes, College & Career Compass has developed into a statewide network of 51 campuses that are committed to meeting the specific needs of adult learners. Of these, a growing majority (currently 41) have agreed to evaluate adult learner practices and support students who connect through the online tool. These campuses understand that adult learners are a critical population, and Compass will be vital to providing information and support.  
There's still time to apply for financial aid and enroll in fall 2020.
The new Washington College Grant, one of the most generous and flexible financial aid programs in the nation, is a guaranteed benefit to students of any age who qualify. It could cover full or a partial amount of tuition, depending on students' income. 
Know someone who could benefit from going back to school?
Send them to College & Career Compass. Learn more about the initiative at wsac.wa.gov/compass.  
About the Washington Student Achievement Council (WSAC)
The Washington Student Achievement Council is committed to increasing educational opportunities and attainment in Washington.