Washington College and Career Compass
Compass: Help adults navigate to a better future.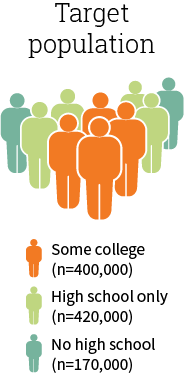 There are nearly one million working-aged adults in our state who have not finished the courses needed to earn a credential.
College & Career Compass will help them navigate educational pathways and get back on the path to completion. The online tool is designed to help adults return to school and finish their education. Users will: 
Learn critical information, tips and resources for returning adult learners
Search for Washington educational programs and pathways
Connect with campuses committed to supporting adult learners' progress.
Washington colleges stand ready to support adults 
In partnership with two- and four-year campuses across the state, the Washington Student Achievement Council maintains the website for Compass. See a complete list of participating campuses in the tab at the bottom of this page. 
Participating campuses. 51 campuses have provided their educational programs to promote pathways to adult learners. 
Compass campuses. Of these 51, a growing list of campuses (currently 41) have agreed to evaluate adult learner practices and provide tailored support to inquiring students connected through the Compass tool. These campuses understand that Compass will be an integral tool to increase our state's educational attainment. 
Education and community leaders welcome Compass
"Pierce College has been nationally recognized for its dedication to helping all students overcome obstacles that stand in the way of their educational goals, so they can more quickly graduate and ultimately advance their careers. We are excited to partner with WSAC in the College and Career Compass to serve adult learners in our community interested in pursuing their educational and career goals."
—President Darrell Cain, Pierce College Puyallup
"Meeting the needs of students at any age is central to the missions of Washington's not-for-profit, private universities. We are thrilled to partner with the Washington Student Achievement Council on the College and Career Compass initiative. By featuring options from every corner of the higher education ecosystem, we can ensure that Washingtonians who aspire to earning their degree can see the full range of academic programs and campus environments available across the state."
—Dr. Terri Standish-Kuon, President and CEO of Independent Colleges of Washington.
"Through its Greater Minds initiative, Greater Spokane Inc. (GSI) fuels our future economy by building a talented workforce that is nimble, robust and competitive. WSAC's newly created College and Career Compass tool supports GSI and our partners efforts and is an integral part of supporting adults in their return to education. We look forward to deepening our ability to build the well-educated and skilled workforce of the future."
—Alisha Benson, CEO Greater Spokane Inc.
"LWTech is pleased to join the College and Career Compass to fully support adults interested in successfully completing degrees that will help them thrive with livable wage jobs."
—Dr. Amy Morrison, Lake Washington Institute of Technology President
Statewide outreach targets former students
WSAC is launching Compass with an email campaign to over 100,000 adults who don't have a postsecondary credential. 
The email messages are encouraging and inspirational, intended to steer adult learners to visit the new online tool, learn about how colleges and financial aid have changed to be more supportive, and reconsider the prospect of finishing a credential. The messages—and content in the tool—also emphasize the new Washington College Grant, a powerful resource for adult learners.
Pathways for Returning Adults
The completion of a postsecondary credential is critical for participation and success in the 21st century economy. Empowering adults to return to the classroom, complete their credential, and advance in their careers can have profound benefits on Washington's families, our communities, and state's economic and civic health.
Partnerships for Washington's adult learners 
To meet this critical need for skilled employees, Washington adopted a goal of at least 70 percent of all adults (ages 25-44) completing a postsecondary certificate or degree. Establishing the College and Career Compass initiative is an essential step to reaching the educational attainment goal. Success will hinge on continued partnerships with key stakeholders from higher education, businesses and employers, targeted regions of the state, state agencies, and policy makers, who together will strengthen and define our shared commitment to serving adult students. The development of College and Career Compass was supported in part by Lumina Foundation, an Indianapolis-based private foundation dedicated to expanding access to and success in education beyond high school.
Campus Participation 
Advisory Teams
2018 Summit
Reports and Resources