The 2013 Roadmap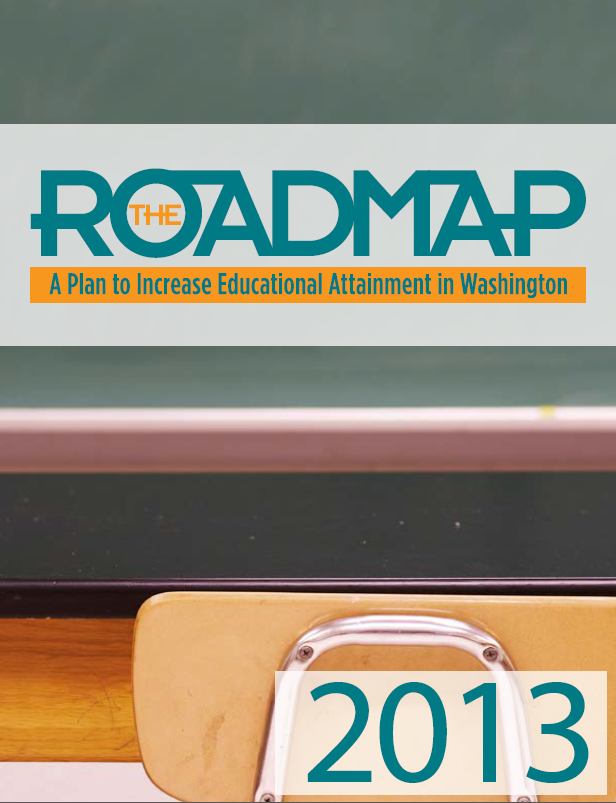 Washington's Ten-Year Plan
On November 20, 2013, the Council adopted the 2013 Roadmap report. The Roadmap sets a clear course to increase educational attainment for Washingtonians, leading to better-prepared high school graduates and more adults who earn postsecondary credentials--all primary contributors to a robust and prosperous Washington. The Council delivered the Roadmap to the Legislature in December 2013.  
The state's 2013 Roadmap establishes two educational attainment goals for 2023:
All adults in Washington, ages 25-44, will have a high school diploma or equivalent.
At least 70 percent of Washington adults, ages 25-44, will have a postsecondary credential.
The Roadmap Recommendations
Achieving the educational attainment goals by 2023 will require focused strategies around three primary objectives: Ensure Access, Enhance Learning, and Prepare for Future Challenges. The Council believes these goals for 2023 can be accomplished through twelve action steps. The actions are listed in order by priority within each of the three objectives.
Ensure Access
Ensure cost is not a barrier for low-income students.
Make college affordable.
Ensure all high school graduates are career and college ready.
Coordinate and expand dual-credit and dual-enrollment programs.
Increase support for all current and prospective students.
Enhance Learning
Align postsecondary programs with employment opportunities.
Provide greater access to work-based learning opportunities.
Encourage adults to earn a postsecondary credential.
Leverage technology to improve student outcomes.
Prepare for Future Challenges
Respond to student, employer, and community needs.
Increase awareness of postsecondary opportunities.
Help students and families save for postsecondary education.
The Development of the Roadmap
The Council completed its first Strategic Action Plan in December 2012. Titled "Critical Crossroads: A Call for Action," the plan identifies educational issues that represent both obstacles and opportunities for improving educational attainment.
In January 2013, the Council began developing the Roadmap by enlisting the help of a consultant to conduct a listening tour through ten Washington communities: Bellingham, Cheney, Ellensburg, Olympia, Pullman, Richland, Seattle, Spokane, Vancouver, and Walla Walla. As part of this process, the Council engaged in rich conversations with educators, education administrators, students, education advocates, legislators, and community leaders from around the state.