Pave the Way Conference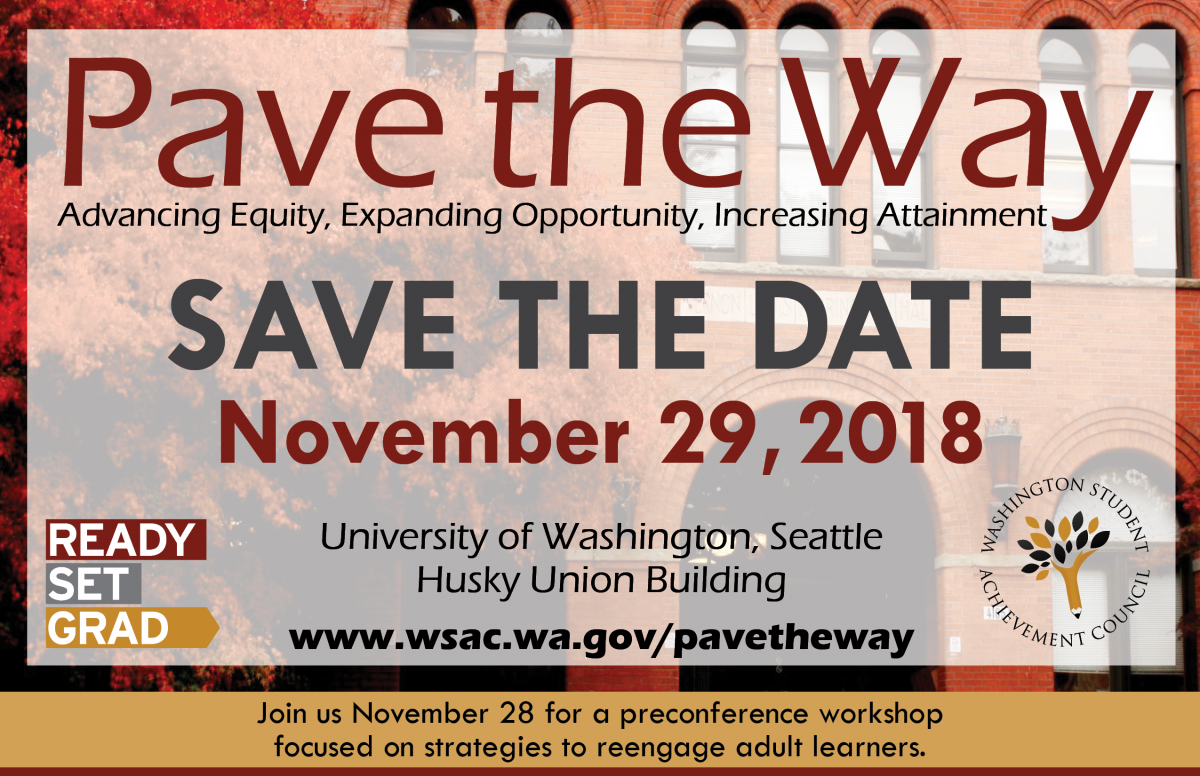 About the Conference
The annual Pave the Way conference focuses on strategies to advance equity, increase college readiness, and broaden access to higher education in Washington State. The conference brings together educators, policymakers, and community partners from across the education system, from preschool through college. Pave the Way aims to ensure students receive the support they need to succeed, despite potential barriers related to income, race, and more.
The 2018 conference will take place November 29 at the University of Washington in Seattle. Join us November 28 for a preconference workshop focused on strategies to reengage adult learners.
Join the Pave the Way listserv to receive updates about this year's conference.
Conference Objectives
Share effective policies and strategies for educational success among the state's most disenfranchised and underrepresented student populations.
Mobilize, inspire, and engage P-20 educational partners in Washington through meaningful professional development.
Engage P-20 educators and advocates in the intersect of policy, practice, and implementation to increase progress toward the state's educational attainment goals.
Call for Session Proposals
Session proposals are being accepted now, with a submission deadline of September 28, 2018. Potential presenters can preview the questions in PDF prior to submittal.
We welcome content highlighting policies, best practices, and partnerships designed to address the opportunity gap and promote educational attainment for underrepresented students throughout the P-20 educational system in Washington. We encourage session proposals for dynamic presentations that engage attendees in one or more of the key areas of focus detailed below:
Affordability: Affordable postsecondary education.
Readiness and Transitions: Preparation, access, and transitions to college and/or the workforce
Student Supports: Resources and services to support student success and completion in K-12 and college.
Regional Approaches: Unique educational and economic challenges and opportunities for specific regions within the state.
Adult Learners (preconference only): Reengaging adults with some college credit and no credential toward completion.
Conference Sponsorship
Interested in sponsoring Pave the Way 2018? Download our sponsorship information flier to learn about sponsoring this year's Pave the Way conference. Contact Amy Buck (360-753-7865) for details or to become a sponsor.
---
Visit our archives for information about past years' Pave the Way conferences.