Office Hours - 2015 Spring Archive
Legislative Update
Posted on April 17, 2015
Legislation to expand dual-credit opportunities passed the Senate with a few changes. The floor striker to E2SHB 1546 specifies prioritization criteria for funds with an eye to ensuring access for students in rural schools. The bill has now passed both chambers and awaits House concurrence. For status information about other postsecondary education bills, see our weekly bill tracker.
Maud Daudon's gubernatorial appointment to the Washington Student Achievement Council was unanimously confirmed by the Senate on Tuesday April 14. Senators Dammeier, Kohl-Welles, and Frockt praised Daudon for her leadership, broad professional experience, and her commitment to ensuring that our higher education system is viable, affordable, and accessible. Maud Daudon chairs the Council and is president and CEO of the Seattle Metropolitan Chamber of Commerce. 
The Governor, House, and Senate have all released their budgets. If you're wondering how they compare on postsecondary education, you might be interested in our budget comparison.  
All Means All
Posted on April 1, 2015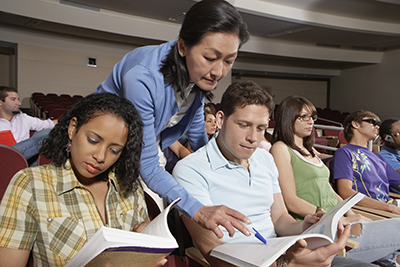 Everyone benefits from postsecondary education. For students, a postsecondary credential is a ticket to higher earnings and improved quality of life. For society, higher rates of postsecondary attainment decrease reliance on state services and increase the competitiveness of our workforce. 
Given the value of postsecondary education, we need to ensure all students have access to these opportunities. We can improve access by strengthening the transition from K-12 to higher education. 
Unfortunately, students who receive special education services transition less successfully to postsecondary education than their peers. High school graduates who receive special education services enroll in postsecondary education at less than half the rate of the total student population.  
For K-12 students with disabilities, the transition from high school to postsecondary education is rife with barriers. Some of these barriers exist because of inadequate transition planning and skill development in high school. Other barriers exist because of structural differences between K-12 and postsecondary education. Unlike the K-12 the system, postsecondary institutions are not subject to the federal Individuals with Disabilities Education Act (IDEA). This means that students face different documentation requirements and receive different academic accommodations in postsecondary education. 
We're working with our partners and stakeholders to support practitioners and policymakers in their work to improve educational outcomes for students with disabilities. Through Washington State GEAR UP, we offer resources to high school practitioners. We also staff the state's Disability Task Force, which makes recommendations to improve transitions to postsecondary education for students with disabilities. 
Washington State GEAR UP recently published a resource guide for people who work with high school students with disabilities. In addition to a list of state and national resources, this publication identifies common accommodations in postsecondary institutions for a variety of different disability categories, as well as transition timelines and checklists for 9th – 12th grades. 
The 24-member Disability Task Force is comprised of representatives from K-12 and postsecondary education, citizen groups, as well as government and non-government organizations. In its 2014 report to the Legislature, the task force identified the structural barriers between K-12 and postsecondary education and made seven recommendations to improve transitions for students with disabilities. 
New Dual-Credit Lookup Tool for Students taking AP, IB, Cambridge Tests
Posted on March 25, 2015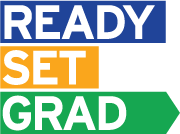 The Washington Student Achievement Council has developed a dual-credit lookup tool to help students find out if and how much college credit they may get for their dual-credit exam scores at public and private independent colleges in Washington. Just select the type of exam—Advanced Placement (AP), International Baccalaureate (IB), or Cambridge International—pick the exam subject, enter the student's score, and select up to five colleges. 
The tool was created because it can be difficult for students to see how their exam scores will be interpreted at different colleges. Washington schools offer a variety of options for students to earn college credit during high school. Among these are credit by exam programs—AP, IB, and Cambridge International. Students receive a different type and number of credits depending on their score and what institution they attend. 
The dual-credit lookup tool makes the process of translating exam scores into college credit more transparent for students and families. They can see how each college awards credit for each exam and are provided with a link to the school's website for further information. 
Dual credit is a key strategy to increase educational attainment for students and our state. Students who participate in dual credit are more likely to graduate from high school, enroll in college, and complete a degree or certificate.
2015 Legislative Session: Week Two Highlight - Higher Education Affordability 
Posted on January 29, 2015
On January 21, the House Higher Education Committee held a work session on college affordability. Rachelle Sharpe (WSAC) presented on the State Need Grant and the College Bound Scholarship program. The SNG presentation outlined the changes in program policy over time. Sharpe noted that the SNG is a critical strategy for meeting the state's education attainment goals. The committee reviewed the Interactive Affordability Model, developed jointly by UW Professor Jim Fridely in partnership with WSAC. The model is designed to show the relationship between state funding, tuition policy, and the impact on student debt. Representatives of the state's students' association presented on the impact of tuition on affordability and emphasized that increasing hours of work to afford college can negatively impact student success.
Committee meeting materials can be found online.
Our comprehensive review of the second week of session is also available.
#ReachHigher, College Goal Washington put FAFSA completion front and center
Posted on January 23, 2015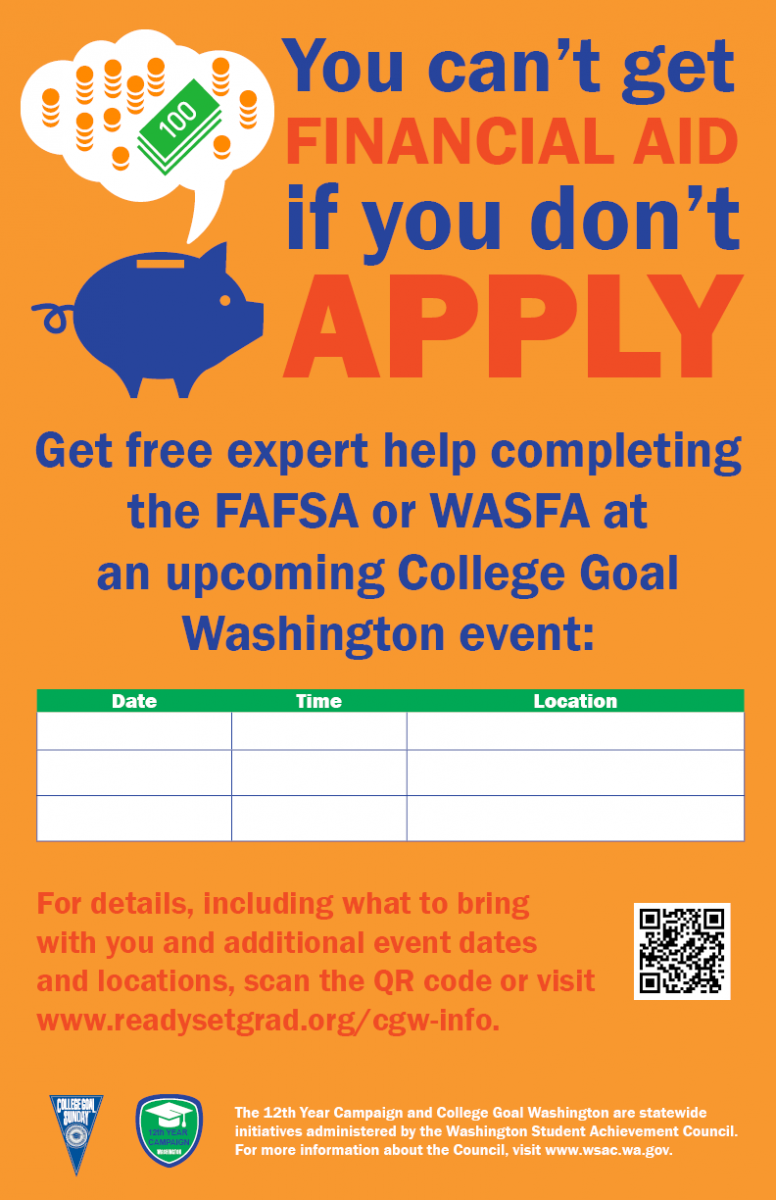 In November, First Lady Michelle Obama launched the FAFSA Completion Challenge, calling high schools to create and submit a three to five minute video highlighting their work to promote student completion of the Free Application for Federal Student Aid (FAFSA). Contestants are encouraged to post their videos on social media using the hashtag #ReachHigher. 
The FAFSA can be a barrier to low and middle-income families in the financial aid application process.  A 2013 article in the Journal of Student Financial Aid states, "completing the FAFSA requires a considerable amount of effort and social capital, personal networks that students can draw upon to gain information and resources." The authors go on to identify barriers students face when filing the FAFSA, including "…questions about family financial status that the student may be ill-equipped to answer…assumptions of parental support, [and]…a general lack of knowledge about available aid."
The First Lady's "Reach Higher" initiative puts FAFSA completion in the national spotlight, and Washington State is keeping pace. In January and February 2015, over 75 high schools, colleges and universities will be hosting College Goal Washington events to help people apply for financial aid. 
College Goal Washington helps people overcome some of those barriers. College Goal is a free on-site program that helps students and families complete the FAFSA and the WASFA, the Washington Application for State Financial Aid. The FAFSA is required for students to access federal financial aid and some sources of state aid, such as the College Bound Scholarship. The WASFA exists for students who meet Washington residency requirements, want to be considered for State Need Grant, and who are unable to file a FAFSA due to immigration status.  
College Goal is also part of the 12th Year Campaign, a two-part initiative designed to help students apply for college and financial aid. At College Goal events, families can connect with trained volunteers and financial aid experts from local colleges and universities. Not only do they receive assistance completing their FAFSA or WASFA, but they can also ask financial aid staff specific questions about their family situation.
Both Denver and Chicago Public Schools data have shown that up to 90% of students who completed a FAFSA enrolled in postsecondary institutions within 12 month of graduating from high school. By helping students and families on their financial aid applications, College Goal Washington contributes to the Washington Student Achievement Council's postsecondary education attainment goal: By 2023, at least 70 percent of Washington adults—ages 25 to 44—will have a postsecondary credential. 
Citations
Feeney, M., & Heroff, J. (n.d.). Barriers to Need-Based Financial Aid: Predictors of Timely FAFSA Completion Among Low-Income Students. Journal of Student Financial Aid, 43(2), 65-85. Retrieved December 12, 2014 from http://publications.nasfaa.org/cgi/viewcontent.cgi?article=1204&context=jsfa. 
Senate Higher Education Committee Meeting 
Posted on January 23, 2015
On January 20, we presented our 2014 Strategic Action Plan and an update on State Need Grant to the Senate Higher Education Committee. Materials are available on the electronic bill book. 
2015 Legislative Session Week 1: Postsecondary overview, budget, dual credit 
Posted on January 20, 2015
On January 13, the House Higher Education Committee began a two-part work session on an overview of postsecondary education that concluded on January 14. Members heard presentations from a large number of postsecondary education partners, including Council Vice Chair Karen Lee. 
The Senate Higher Education Committee's work session took place on January 15. Members heard presentations on state and postsecondary budget updates and requests. 
Also on January 15, the Senate Early Learning and K-12 Education Committee held public hearings on two dual-credit bills. Senate staff prepared a side-by-side comparison of the two bills. 
SB 5080—Concerning dual-credit options (Dammeier, Rolfes, Fain, Frockt, Litzow, McAuliffe).  
SB 5086—Concerning dual-credit opportunities provided by Washington State's public institutions of higher education (Litzow, McAuliffe, Kohl-Welles, requested by Office of Financial Management). 
Public hearings were held on the Governor's budget bill in House Appropriations (HB 1106) and in Senate Ways and Means (SB 5077). The Senate Ways and Means Committee also held a public hearing on SB 5063—Prioritizing state revenue growth for education.  
For more details from last week, read our full legislative update. 
To stay current on the meetings we're following this week, check our Week 2 Schedule.
House Higher Education Committee Meeting
Posted on January 13, 2015 
Meeting materials available here. 
2015 Legislative Session Begins
Posted on January 9, 2015 
The regular session of the Washington State Legislature commences on January 12 and is scheduled to end on April 26. 
The Washington Student Achievement Council (WSAC) has been invited to present before the House Higher Education Committee on January 13 at 8:00 a.m. The Council will discuss the Strategic Action Plan, which outlines funding and policy recommendations to help meet the state's educational attainment goals. The Strategic Action Plan will be introduced to the Senate Higher Education Committee on January 20 at 1:30 p.m. Note that the committee hearing schedules related to WSAC issues are available online. 
Work related to the 2015 session began in earnest in November and December with legislative assembly days. WSAC members and staff were once again engaged in the work. A few highlights of note:
On a November 20 meeting of the Senate Higher Education Committee, Rachelle Sharpe, WSAC Senior Director of Student Financial Assistance and Support Services, presented with UW Professor Jim Fridley on the Affordability Framework. WSAC collaborated with Dr Fridley to develop this interactive model. The model should improve understanding of the impact of various funding, tuition, and financial aid policies. Council member Paul Francis, who also serves as the Executive Director of the Council of Presidents, provided perspective on institutional activities that help students understand debt, including counseling, developing financial literacy skills, and web-based resources.
On a December 5 meeting of the House Higher Education Committee, Dr. Gene Sharratt, WSAC Executive Director, presented the 2014 Strategic Action Plan, noting that implementation will be necessary to achieve the state's higher education goals. Council member Paul Francis joined liaisons from public baccalaureate institutions to present their priorities for the 2015 legislative session.