News: Complaint Portal
Washington launches consumer protection resource for college, vocational students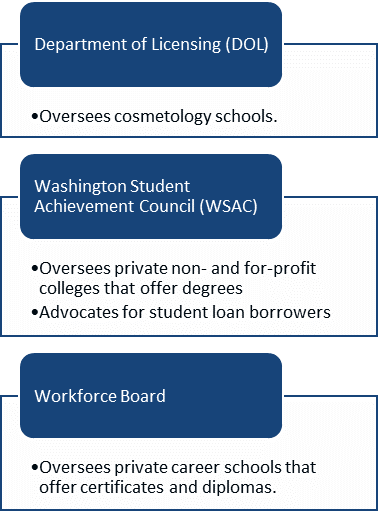 November 20, 2019
Olympia—Washington has a new way for postsecondary students to file consumer protection complaints. Consumer complaints cover a variety of topics. Some of these include false or misleading advertising, failure to follow the school's own published policies, and violations of state requirements. The state's new online portal is for students attending any college or vocational school in Washington, as well as student loan borrowers. 
Before, students and borrowers had to seek out the correct state agency to handle their complaints. But in 2017, a report noted that this was confusing for consumers. Three different state agencies share primary oversight of approximately 600 private for- and non-profit postsecondary schools in Washington. These schools serve close to 50,000 students—over 10 percent of all postsecondary enrollments. 
Now, any student-loan borrower or student attending a college or vocational school in Washington can go to one place to file a consumer protection complaint. The state's new online portal will route complaints to the agency with jurisdiction. The site will also connect users to resources and information about next steps.
The state Legislature directed three agencies--the Washington Student Achievement Council (WSAC), Workforce Training and Education Coordinating Board (Workforce Board), and Department of Licensing (DOL)--to create one central complaint portal. The Department of Health's Nursing Commission and State Board for Community and Technical Colleges (SBCTC) also have oversight over private and public postsecondary schools. To develop the portal, WSAC collaborated with the Workforce Board and DOL and consulted with DOH and SBCTC.
About the Washington Student Achievement Council (WSAC)
The Washington Student Achievement Council is committed to increasing educational opportunities and attainment in Washington.