Release: Jeff Vincent
Council welcomes Jeff Vincent, new member and chair  
October 23, 2019
Olympia— On October 16, the Washington Student Achievement Council (WSAC) welcomed a new member, Jeff Vincent, and elected him as chair. Governor Inslee appointed Vincent to fill a citizen-member position vacated by the last chair, Maud Daudon.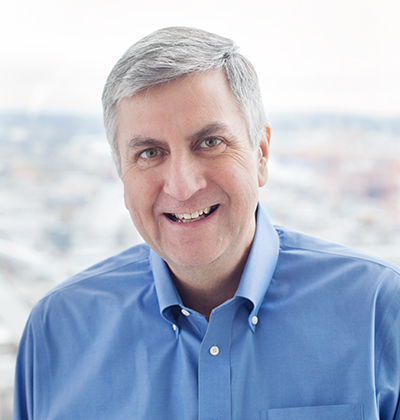 Being of service to others is central to Vincent's leadership style, and he has decades of experience putting this value into practice. Since 2001, Vincent has served as CEO & President of Laird Norton. At the same time, he's devoted his last two decades of community involvement to ensuring that all children in Washington have a chance to succeed. 
"I believe there is nothing more important in our society than making sure every child has an opportunity for a meaningful education," says Vincent. "In the 21st century, education is the gatekeeper for a person to earn a living wage, and it's essential to break down social barriers." 
WSAC and the council share Vincent's dedication and sense of urgency. In less than five years, over 70 percent of jobs in Washington will require more than a high school diploma. With more jobs--especially those paying a living wage--requiring more skills, the state set a goal to equip 70 percent of residents with a postsecondary credential. But the current attainment rate is only 56 percent. Throughout the state, there is broad agreement that raising attainment rests in large part on building pathways from education to a wide variety of careers. 
Vincent and WSAC Executive Director Michael P. Meotti both see new partnerships and heightened levels of collaboration as the way forward. As chair, Vincent looks forward to helping WSAC become the thought leader and key facilitator in achieving the state's goal. Similarly, Meotti welcomes the experience Vincent brings, spanning sectors of education, government, business, and non-profits. "Jeff's history of leadership in K-12 and higher education issues will help the council build pathways that work for all Washington residents, no matter where they start or where they want to go."  
Vincent has served as chair of four different groups, including the Washington Roundtable's education committee and the Washington State Board of Education. He currently chairs the Roundtable's education foundation, Partnership for Learning, and was a founding member and first chair of the Bainbridge Schools Foundation.
About the Washington Student Achievement Council (WSAC)
The Washington Student Achievement Council is committed to increasing educational opportunities and attainment in Washington.