Media Release - New Members
Washington Student Achievement Council welcomes new members
August 3, 2017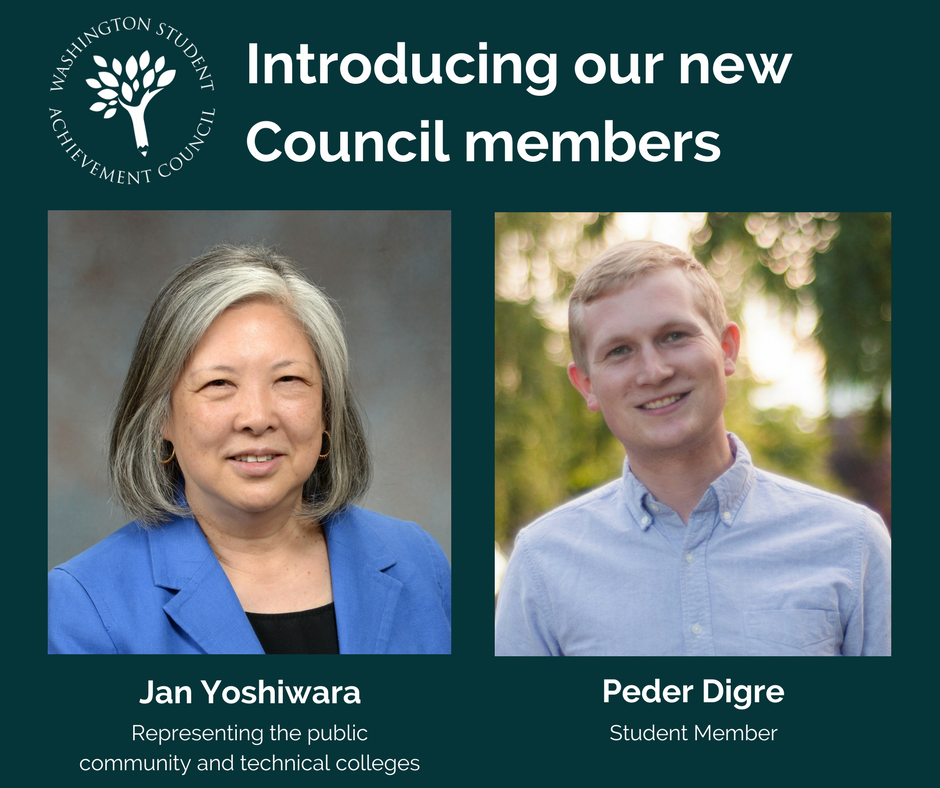 Olympia—The Washington Student Achievement Council (WSAC) welcomes two new members this summer. Jan Yoshiwara joins as the new representative for the public community and technical colleges and Peder Digre begins his one-year appointment as the student member.  
Yoshiwara is the executive director of the State Board for Community and Technical Colleges (SBCTC). Since beginning her service at SBCTC in 1984, Yoshiwara has worked as associate director of planning and information services, associate director for student services and minority affairs, and most recently as deputy executive director for SBCTC's Education Division. "Working together, K-12 and higher education can meet the needs of Washingtonians and Washington's employers for well-educated citizens and workers," says Yoshiwara. "WSAC is the perfect venue for us to work together towards common goals." Yoshiwara replaces the previous SBCTC executive director and council representative, Marty Brown. 
Digre, who replaces outgoing student member Jessica Murillo-Rosales, is a graduate student at the University of Washington. He is pursuing a Master of Public Health and a Master of Public Administration. Digre was drawn to serve on the Washington Student Achievement Council because of the transforming potential of education. "During my tenure on the council," says Digre, "I aim to be an advocate for all students, actively searching out system changes to better serve underrepresented students, while ensuring the long-term success and sustainability of education in our state." Digre begins his one-year term in August. 
"Jan and Peder will bring two essential voices to the Council," says Michael P. Meotti, executive director of the Washington Student Achievement Council. "One represents the students our colleges and universities serve and the other represents the community and technical colleges, which serve more students in Washington than any other sector." Meotti looks forward to the perspectives incoming members will bring to the Council's work. "Jan Yoshiwara is one of the most experienced higher education leaders in the state. And Peder's experience growing up in a rural community and successfully making the transition to the University of Washington is especially important."
More information about Yoshiwara and Digre is available on the WSAC Members webpage. 
About the Washington Student Achievement Council
The Washington Student Achievement Council is committed to increasing educational opportunities and attainment in Washington. The council has three main functions:
Lead statewide strategic planning to increase educational attainment.
Administer programs that help people access and pay for college.
Advocate for the economic, social and civic benefits of higher education.
The council has nine members. Four members represent each of Washington's major education sectors: four-year public baccalaureates, four-year private colleges, public community and technical colleges and K-12 public schools. Five are citizen members, including one current student.
Find us on Twitter @WSACouncil and Facebook.