College Credit in High School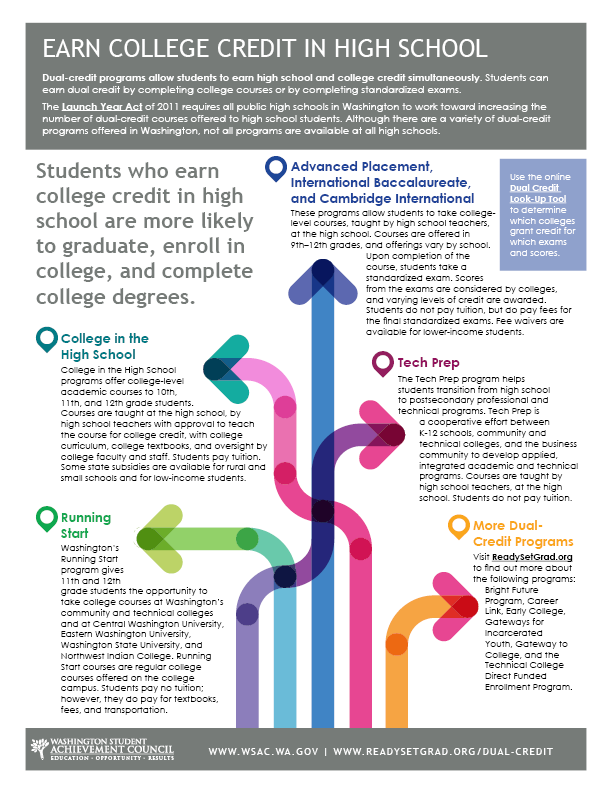 Dual-credit programs allow student to earn high school and college credit simultaneously. Students can earn dual credit by completing college courses (e.g. Running Start, College in the High School, and Tech Prep) or by completing standardized exams (e.g. Advanced Placement, International Baccalaureate, and Cambridge International Program). Students who earn college credit are more likely to graduate high school, enroll in college, and complete college degrees.
The state's Launch Year Act, signed into law in 2011, requires all public high schools in Washington to work toward increasing the number of dual-credit courses offered to high school students. Although there are a variety of dual-credit programs offered in Washington, not all programs are available at all high schools.
2015 legislation (E2SHB 1546), expanded opportunities for College in the High School, established funding models, and provided for existing funds to be used to assist Running Start students with transporation, books, and fees.
Major Dual-Credit Programs Offered in Washington
Running Start
Washington's Running Start program allows 11th and 12th grade students to take college courses at Washington's community and technical colleges and at Central Washington University, Eastern Washington University, Washington State University, and Northwest Indian College. Running Start courses are regular college courses offered on the college campus. Students pay no tuition; however, they do pay for textbooks, fees, and transportation.
College in the High School
College in the High School (CHS) programs provide college-level academic courses to 10th, 11th, and 12th grade students. Courses are taught at the high school, by high school teachers, with college curriculum, college textbooks, and oversight by college faculty and staff. Students pay tuition. Some state subsidies are available for rural and small schools and for low-income students.
Advanced Placement, Cambridge International, and International Baccalaureate Programs
Advanced Placement (AP), Cambridge, and International Baccalaureate (IB) programs enable students to take college-level courses, taught by high school teachers, at the high school. Upon completion of the course, students take a standardized exam. Scores from the exams are considered by colleges, and varying levels of credit are awarded. (Use the online Dual Credit Look-Up Tool to determine which colleges grant credit for which exams and scores.) Students do not pay tuition, but do pay fees for the final standardized exams. Fee waivers are available for lower-income students.
Tech Prep  
The Tech Prep program helps students transition from high school into postsecondary professional technical programs. Tech Prep is a cooperative effort between K-12 schools, community and technical colleges, and the business community to develop applied, integrated academic and technical programs. Courses are taught by high school teachers, at the high school. Students do not pay tuition.
Washington Tech Prep awards dual credit to high school students for career and technical education (CTE) courses articulated to college programs.
SBCTC Tech Prep provides occupational pathways for students by preparing them for technologically advanced careers and postsecondary education. The program emphasizes strong academic, technical, problem-solving, and critical-thinking skills.
 
Co-delivered Dual Credit Courses
Many smaller schools offer more than one dual credit course in the same classroom - most commonly Advanced Placement (AP) and College in the High School (CHS).Some dual credit courses can be delivered simultaneously, in the same classroom, by one teacher.
For quality assurance, and to ensure that state and program policies are followed for correct documentation, please see the Dual Credit Co-Delivery Guidelines and FAQ and OSPI Transcript FAQ for detailed information.
Additional Dual Credit Programs
Check the OSPI Dual Credit website or visit the program links below for information about other programs.
Bright Future Program
Seattle Vocational Institute (SVI) offers an award-winning dual-credit program—Bright Future—for 11th and 12th graders who enroll in allied health, business computers, pre-apprenticeship construction, or Cosmetology at SVI. Bright Future integrates community college-based workforce education programs with the academic program of high school juniors and seniors. In addition, it offers comprehensive case management, including academic and career advising, providing students with support while they earn a high school diploma, a certificate of mastery from a community and technical college, and work experience. Finally, the program helps graduates in their transition to work, further education, or both.
Career Link
Career Link is a high school completion program at South Seattle Community College for students ages 16 to 21 who no longer attend traditional high school. The program supports personal and academic development to help students achieve their high school diploma and make the transition to postsecondary education. Students may earn dual credit for high school completion and college credit. Youth who enroll in the program attend full time at no cost.
Early College
The Early College program provides low-income youth, first-generation college-goers, English language learners, students of color, and other young people underrepresented in higher education the opportunity to earn a high school diploma and one to two years of college credit at the same time, tuition free. More information can be found at the following links:
Gateways for Incarcerated Youth
The Evergreen State College faculty members lead seminars at juvenile correctional facilities for college credit, at no cost to youth. Evergreen students and volunteers serve as academic mentors and coaches in the Gateways for Incarcerated Youth program.
Gateway to College
Gateway to College assists students ages 16 to 21 who have dropped out of school or are in danger of dropping out. Eligible students may qualify for this program to concurrently accumulate high school and college credits, earning their high school diploma while progressing toward a certificate or associate degree. 
Technical College Direct Funded Enrollment Programs
The programs linked below allow students to concurrently earn high school and college credits while progressing toward an associate degree or certificate. Students who enroll have access to most of the training programs and support services at any of the three participating colleges: