Adult Reengagement
Washington's Adult Reengagement Framework
The Washington Adult Reengagement Framework will provide the infrastructure and support for adults without a postsecondary credential to achieve their academic and career goals, earn a living wage, and contribute to Washington's vital economy.
The Need for Action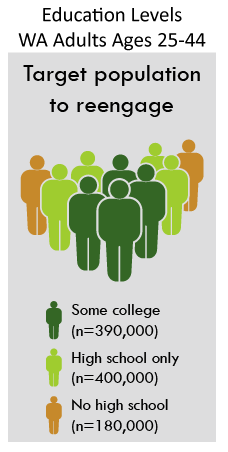 Though many adults understand the benefits of higher education, significant barriers stand in their way. For example, financial constraints and family obligations make it hard to return to college. Those same barriers can result in further delays or abandonment of their educational aspirations. 
If Washington adults do not have accessible and affordable options for postsecondary education, they risk continued underemployment without the many benefits that come from earning a postsecondary credential.
Pathways for Returning Adults
The completion of a postsecondary credential is critical for participation and success in the 21st century economy. Empowering adults to return to the classroom, complete their credential, and advance in their careers can have profound benefits on Washington's families, our communities, and state's economic and civic health.
The Framework Components
The Adult Reengagement Framework will provide state-level coordination to reach adult learners and support colleges in meeting their needs. WSAC and partners are focused on key strategies in three areas:
Communications: Identify former students, develop an online reengagement tool, and implement targeted outreach to connect returning adults to programs and supportive campuses.
Cost: Address affordability issues including access to financial aid, and pilot a MicroGrant to address small-dollar barriers prior to course registration.
Completion: Support the development of regional, career-focused, adult friendly pathways; address enrollment barriers; and expand campus supports to returning adult students.
Washington is Ready
Washington has a strong foundation of work and commitment to an inclusive and responsive higher education system, and is well-positioned to develop a framework to reengage adult learners. Washington is:
Nationally recognized for its commitment to financial aid for low-income students..
Serves nearly 70,000 students (over 42 percent aged 24 or older) through the Washington College Grant.
Provides strong pathways for transfer students and returning students, including policies to support students in receiving credit for prior learning.
Poised for Success
To meet this critical need for skilled employees, Washington adopted a goal of at least 70 percent of all adults (ages 25-44) completing a postsecondary certificate or degree. Establishing the Adult Reengagement Framework is an essential step to reaching the educational attainment goal. Success will hinge on continued partnerships with key stakeholders from higher education, businesses and employers, targeted regions of the state, state agencies, and policy makers, who together will strengthen and define our shared commitment to serving adult students.
Progress with Partners
WSAC has engaged with educational and community partners to build the framework in preparation for Phase 1 outreach to adult learners by fall 2019. An update of major milestones and next steps is included in the table below.
For more information including how you can become involved, go to the tabs below.
Adult Reengagement Phase 1 Update
 
Strategies
Recent Progress
Next Steps Through Summer
Online Tool for Adult Reengagement

Finalized business requirements including modern user experience design
Received approval from state oversight (OCIO) for in-house development of stand-alone tool

Develop interactive content
Determine program data process
Begin coding and development
Build campus profiles

Outreach & Marketing

Selected MadCap Marketing and reviewed timeline and scope of work
Pulled former student data set and reviewed characteristics
Determined tool will provide regional and customized results

Select initiative brand
Develop state-level outreach messages
Review campaign including user testing feedback and testimonials

Campus Engagement

Formed campus leadership "sounding board" group to review Phase 1 development
Visiting with campus teams to determine level of participation

Meet with individual campus teams and appropriate committee groups to advise on Phase I participation

Microgrant

Developing pilots with community partners on each side of the state

Evaluate feedback from partners to inform statewide implementation
Adult Reengagement Timeline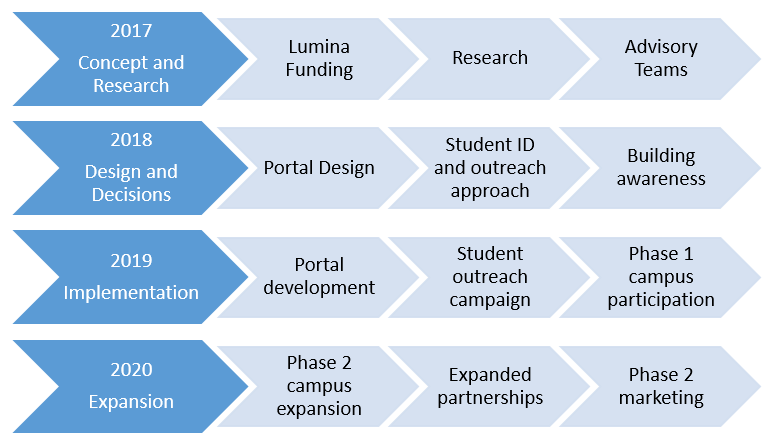 How your college can get involved
To participate in the Adult Reengagement initiative, there are three steps:
On-site leadership team informational session
Development of campus profile and review of program data
Participation agreement for responses to "leads" and description of policies, programs and services provided
Contact information:
Rachelle Sharpe, Deputy Executive Director
rachelles@wsac.wa.gov
360.753.7800
Advisory Teams
Meetings
February 26, 2018
July 31, 2018
April 20, 2018
Renton Technical College, Renton
December 11, 2017
Puget Sound Education Service District, Renton, WA
October 6, 2017
July 31, 2017
August 1, 2017
June 15, 2017
March 31, 2017
2018 Summit
Effective Practices Exchange
On November 28, 2018, the Washington Student Achievement Council (WSAC) convened over 200 leaders to discuss challenges and opportunities to increase educational attainment of adult learners in Washington State. Visit the event archive to learn more and access materials from the 2018 Adult Reengagement Summit.
Reports and Resources