College Readiness
Core to College: Preparing Students for College Readiness and Success, aims to foster long-term partnerships between state higher education and K-12 entities. These partnerships will improve student college readiness and increase rates of enrollment and graduation, using the Common Core State Standards (CCSS) and assessments to establish a statewide common definition of college readiness that signals a student's preparedness for credit-bearing college courses.
Through the Core to College partnerships, K-12 teachers and college faculty are jointly developing Bridge to College Math and English transition courses, which will help 12th grade students prepare for college coursework. For more information, click here.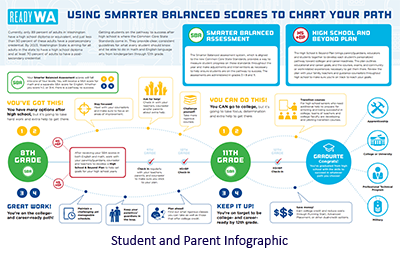 Smarter Balanced Assessments and College Placement
Press release and charts showing expected performance of Washington students
The Smarter Balanced assessments measure student achievement of grade-specific Common Core State Standards. All of the Washington's 34 community and technical colleges and 6 public baccalaureate institutions have agreed to use the Smarter Balanced 11th grade assessment in postsecondary placement.
For students enrolling directly after high school graduation, Smarter Balanced 11th grade scores of 3 or 4:
Offer the opportunity to place into college-level courses without remediation or additional placement testing.
Apply to placement considerations at public two- and four-year institutions in Washington.
This agreement is in effect for the graduating classes of 2016 – 2018, then the agreement will be reviewed and adjusted, if necessary, based on student performance data.
Bridge to College Courses
The Bridge to College courses for English Language Arts (ELA) and Mathematics are fourth-year (senior) courses designed for students scoring a Level 2 on the spring Smarter Balanced high school (11th grade) assessment. Students who earn a "B" or better in the Bridge Course are eligible to enter credit-bearing coursework in college, exempting them from remedial coursework. Read the full details on the Bridge to College Courses.