Strategic Action Plan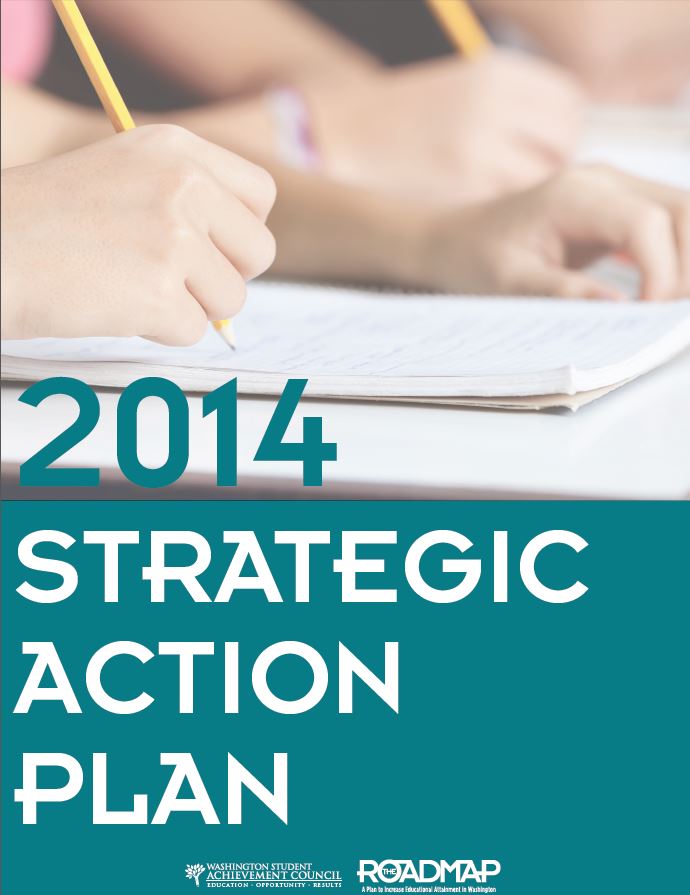 The Council adopted the 2014 Strategic Action Plan at the November meeting. The plan, as presented during that meeting, is available. The final 2014 Strategic Action Plan will be available on this website in early December.
The draft 2014 Strategic Action Plan outlines the critical, immediate steps to meet Washington's two attainment goals.
All adults in Washington, ages 25-44, will have a high school diploma or equivalent.
At least 70 percent of Washington adults, ages 25-44, will have a postsecondary credential.
2014 Draft Strategic Action Plan proposals
The proposals in this plan can help move the needle on educational attainment. They were developed with input from stakeholders across the sectors, including K-12, community and technical colleges, and public and private baccalaureate institutions. The proposals also align with the Council's 2013 Roadmap report.
The proposals advance programs and policies that are making a difference. Several communities have leveraged the College Bound Scholarship to help historically underserved students get to high school graduation. The State Need Grant provides need-based aid to low-income students in every community, from high school graduates to working adults. Dual-credit programs enable students to earn college credit in high school.
What these tools have in common is that their utility stretches beyond any one sector of our education system. A financial aid program isn't just for postsecondary affordability; it's a commitment that helps low-income middle and high school students envision a pathway to college. Dual credit isn't just about high-achieving high school students; it reduces the total cost of a postsecondary credential. Work study isn't just financial aid; it helps students gain real-world work experience in their field of study.Our challenge is in making Washington's effective programs accessible to all students. Some students may receive a State Need Grant award and therefore take on less student loan debt. Other students, who may have the same income and even attend the same institution, may not receive State Need Grant because there isn't enough funding available. Some students in a high school course receive college credit, while other students in the same course (with identical grades) do not, only because their families were unable to pay the course fees. It's time to make the system work for all students.
The 2014 Strateic Action Plan proposals:
Maintenance Level Requests


Fulfill caseload requirements for the College Bound Scholarship.
Protect maintenance-level funding for public two- and four-year institutions.

Policy Recommendations

Serve more State Need Grant-eligible students.
Expand the reach of dual-credit opportunities.
Support underrepresented students.
Reinvest in State Work Study.
Develop an affordability framework.
Strategic Action Plan Archive